These versatile 12 ton muck spreaders can be used with virtually any type of material, have excellent reliability and low running costs.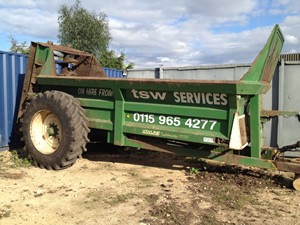 The ECE Lowline Fieldmaster 1200 rear discharge farm spreader uses twin vertical augers fed by 2 heavy duty bed chains and slats.
A positive drawbar weight is maintained at all times whatever the material being discharged from the muck spreader.
The large single wheels ensure easy towing with minimum soil compaction.
A constant and extremely even spread pattern is ensured from the moment the spreading mechanism is engaged to the completion of spreading.
A finished spread of up to 8 metres is achieved with tapering off, enabling a double overlap wide spread option.
A modified paddle arrangement & guillotine door enables the muck spreader to be used for slurry.
Hire charges: £100 per day
To check availability call us on 0115 965 4277