The Efco TG 2650 XP is a professional petrol hedge trimmer with adjustable, high quality steel blades for optimum cutting results even on the thickest, toughest hedges.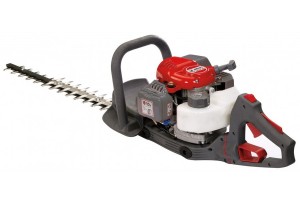 This hedge trimmer features a double-sided 60cm (23.6″) blade with a 180º swivel handle, which is lockable in five intermediate positions, to maximise convenience in any operating position, even close to walls.
Easy-OnPowered by Emak's own reliable 21.7cc 1.0hp two-stroke engine, the Efco TG 2650 XP is fitted with primer and lift starter systems to facilitate cold starting.
The digital coil with electronic rmp limiter maintains mechanical output at any engine speed.  Ignition advance aids easy-starting and favours low fuel consumption
The anti-vibration system with four springs ensures total isolation of the handles,
Lightweight at 5.6kg, the Efco TG 2650 XP petrol hedge trimmer has a well balanced design and will give the perfect visual finish to any hedge, no matter how tough or dense, whilst maintaining plant health.
Hire charges: £30 per day, £80 per week
To check availability call us on 0115 965 4277