The EFCO DS2800S universal Brushcutter is a heavy duty medium sized strimmer for tidying up gardens, flower beds, and clearing overgrown areas, it has been specially designed for performance, simplicity and comfort during use.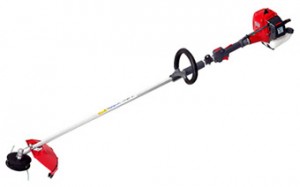 The Brushcutters eco friendly Euro 2 stroke 27cc petrol engine ensures minimal impact on the surrounding environment, improved fuel economy with lower fuel consumption over 45 minutes operation can be achieved on a full tank.
Power/Displacement: 27 cc (1.3 HP – 1.0 kW)
Tube diameter: 24mm
Grip: Single
Clutch: Yes
Fuel tank capacity: 0.58 L
Blade: 3 Tooth, 255 mm diameter
Line-head: Tap 'n' Go, 130 mm diameter, 2.4 mm nylon line
Weight: 5.5kg
• Equipped with digital coil for easy starting in any conditions.
• Air filter with paper element affording excellent protection to the engine even when operating in heavily dust-laden environments, guaranteeing longer service.
• Aluminium engine housing ensures maximum strength and durability, even in the face of intensive and prolonged cutting.
• Lightweight and compact bevel gear drive reduces weight at the head, making the machine easier to handle and position. Bevel drive attached by way of M10 male thread.
• Ergonomically designed handles (loop type covered in textured rubber, cowhorn in aluminium) ensuring maximum operator comfort whatever the position of the machine when in use, and isolation of the hands from vibration.
• Designed with detachable transmission coupled by way of a simple ball joint. Offers maximum convenience in terms of portability and storage.
Hire charges: £20 per day, £50 per week
To check availability call us on 0115 965 4277